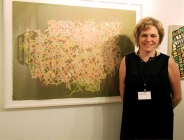 STATEMENT
My work is inspired by the visual clatter of the mundane places I know best, the domestic environment, or the tilted landscape of my weekend garden. The paintings are spontaneous and intuitive; I work without a plan and embrace the happy accident. With collage-like scraps of form and color I build invented spaces where I reimagine, reinvent, and repair. Like selective memories, I retell my story with embellishments and edits. The paintings are an exploration of the inaccurate and personal.
BIOGRAPHY
Lori Glavin is an abstract painter, printmaker and collage artist who has been involved in the visual arts for over 35 years. Originally from Rochester, NY, Lori earned her BFA from Syracuse University's School of Visual and Performing Arts. She worked in New York City for over a decade as a graphic designer and art director for numerous companies including her own design firm, Conde´ Nast Publications and McCall's Magazine.
For the past 20 years Lori has focused on her fine art practice. In 2007 she co-founded Wilson Avenue Loft Artists, a community of artist studios in Norwalk, CT. She was a Vermont Studio Center grant recipient and resident in 2015. Lori is an artist member at The Silvermine Guild in New Canaan, CT. Her work is available through Blueprint Store, Dallas, TX, Dimmitt Contemporary Art, Houston, TX, and The George Gallery, Charleston, SC.